If you can't be with all the sweet kiddos in your life on Valentine's Day, don't sweat it. Thanks to technology, you can still connect and celebrate the holiday of love with your kids, grandkids, nieces and nephews, or any other kid that's special to you. With these virtual Valentine's Day ideas for kids, you'll give them a day to remember even if you can't physically give them a loving squeeze.
This article will cover virtual Valentine's Day ideas for kids, but it will also dig deeper into these ideas and give you even more food for thought while planning your online party. I'm also providing a long list of ways to combine virtual and real-life connections, what to include when you send a Valentine card in the mail before your online party (flat gifts that are easy to send!), different ways to connect (for the virtual party newbie), and finally some thoughts on why we're doing all of this in the first place. So get ready to scroll and learn about all the reasons why you're going to love virtual parties with kiddos.
16 Virtual Valentine's Day Ideas for Kids
I hope you're ready for the most comprehensive list of virtual Valentine's Day ideas for kids online, because I've scoured the internet and dug deep into my own creativity to come up with best, most fun, silliest, and the sometimes downright craziest ideas for your online get together. Let's go!
What Games are Best to Play Virtually? 11 Ideas for Your Team of Kiddos
Now that we've gone over the top 16 virtual Valentine's Day ideas for kids, let's get back to the question of games. When it comes to playing games at a distance, you might be wondering what games are good ideas and which ones are doomed to fail. For example, good luck playing hide and seek over Zoom! However, there are plenty of other candidates to add to your list of potentials. Try out a few of them and see which ones are most popular with your party goers.
No matter what game you decide to play or if you play in teams or not, the key is to have a good time and make virtual Valentines Day extra special for the children! And don't forget to send virtual hugs and kisses before the party is over.
Celebrate with Kids Long Distance with These Flat Gift Ideas
You can supplement your virtual Valentine's Day party activities with other ways to connect long-distance that don't involve a computer. Regular mail, snail mail, USPS, whatever you want to call it, you can still make a connection the old-fashioned way. But many people don't love to ship bulky and expensive boxes. The solution is easy: flat gifts! Any of these options can easily be sent in an envelope, a large envelope, or a padded envelope and sent with regular postage. (Be sure to calculate how many stamps you need at USPS.com.)
Here's how to plan ahead to make children feel even more special by sending them a little something in advance that's more than just an email. Let them hold Valentine's Day in their hands, too!
Whew! I know I've already given you a lot to think about. But if you're looking for more help on some of these categories, I've listed a few of the most popular options for you to read more on below.
How to Connect Virtually with Kids: The Tech Side
There are so many ways to connect with technology that there's no excuse to let too much time go by before seeing your loved ones. Here are the easiest ways to get a real-time exchange going on so you can put to work these virtual Valentine's day ideas for kids.
Who Would Celebrate Valentine's Day Online...and Why?
Why are we doing all of this? Is it just another set of activities to add to a mom's plate and make her crazy? And who should think about hosting a party? Let's answer that second question first, then we'll get into learning why we should consider these types of virtual events for our children.
Who Celebrates Valentine's Day Virtually?
Who needs these virtual Valentine's Day ideas for kids, anyway? The easiest answer is parents who are away from their children, whether they are traveling for work, live in a different state, or if an illness is keeping them apart. It's difficult to be away from family over holidays, and connecting online can really alleviate some of that loneliness.
But other family members and friends also enjoy celebrating virtually, including grandparents, aunts and uncles, and more. Teachers with remote students may also turn their virtual classroom into a Valentine's Day party for both fun and learning.
Friends and cousins that live far apart also like to celebrate together and have an online party. With families able to be more connected than ever, similar-age cousins and friends who have moved far away can still maintain those relationships. Valentine's Day is the perfect excuse to get these friends together and have some fun.
From Online to Together Time
Hopefully your family is not all separated for this holiday. While you're planning your online activities with grandparents or friends, don't forget to plan for your in-person time, too. For the face to face together time you get, consider these ways to make Valentine's Day extra special for the kiddos and for you!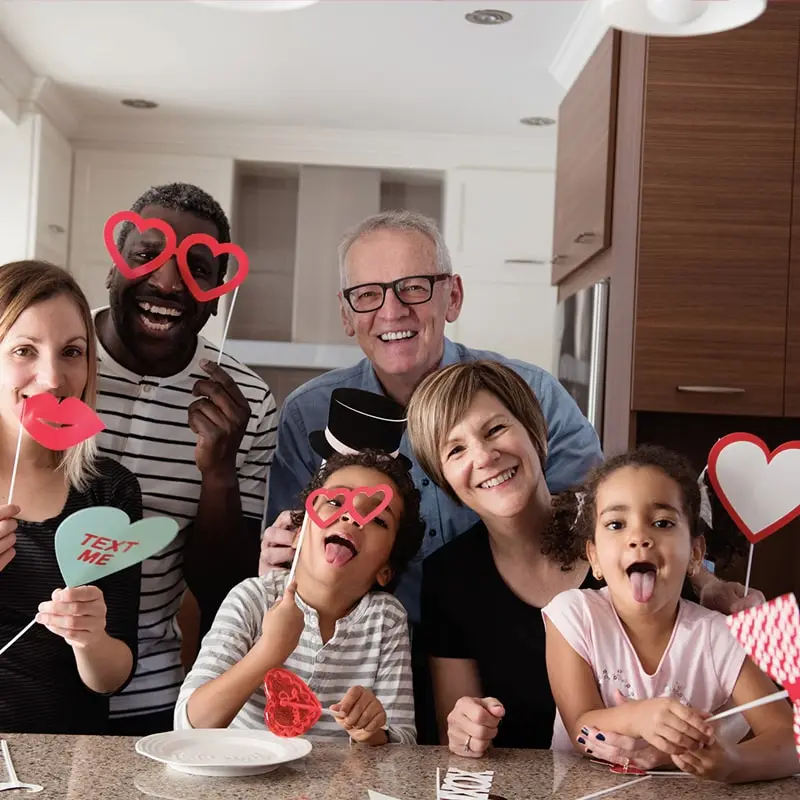 Making it Special on Purpose
No matter how you choose to celebrate, these virtual Valentine's Day ideas for kids will help make it special and memorable, no matter the distance. Whatever you do…don't do nothing. It's not just about a pat on the head for children. It truly is the little things that strengthen the bonds we have with our children and turn them into life-long strong relationships. Happy Valentine's Day!