This week I'm pleased to bring you Janie Dempsey Watts and her book, Pap Pap Goes to Paris, and So Does Ricky. I was excited to read this story because I visited Paris in 2008 and it has truly been a part of me ever since. There is really nowhere else like it, and Janie captures some of the magic of the City of Lights in her book.
Seeing a snow globe of the Eiffel Tower, Ricky wants to go to Paris with his grandfather to climb the famous monument. After convincing his parents, he travels to Paris and experiences everything from cobblestones to croissants. He sees the gigantic tower up close, and wonders how he will make it up the almost 700 stairs. With encouragement from his grandfather, Ricky tackles the stairs and learns the importance of teamwork and persistence.
Belle: Pap Pap Goes to Paris, and So Does Ricky is a sweet story that not only shows the bond of grandchild and grandparent but also introduces children to a language and culture they may be unfamiliar with. What was your inspiration for this story?
Janie: My husband (also known as "Pap Pap") and I were going to Paris for an anniversary trip. Our grandson, then three and a half, overheard us talking about Paris and spotted an Eiffel Tower snow globe atop my desk. He asked if he could come along with us.  I explained that even though we would love to have him come too, I didn't think his parents would want him to; he was simply too little. He asked how big the Eiffel Tower was. I wasn't sure, so we looked it up. He kept asking questions, and I kept telling him all about Paris, its museums with old, pretty paintings, dark and cool cathedrals, and cruises on the Seine River.  Finally, I promised to take pictures of all the things we'd see and to share these upon our return.
As the jet lifted off the runway, my husband squeezed my hand, winked at me, and said, "Pap Pap Goes to Paris."
"Pap Pap Goes to Paris?" I repeated. "That's the title of my next book. Don't you see? We can take our grandson there with a story about a trip to Paris.  We'll take pictures of everything we see that he might like, and then I'll write the story when we get home."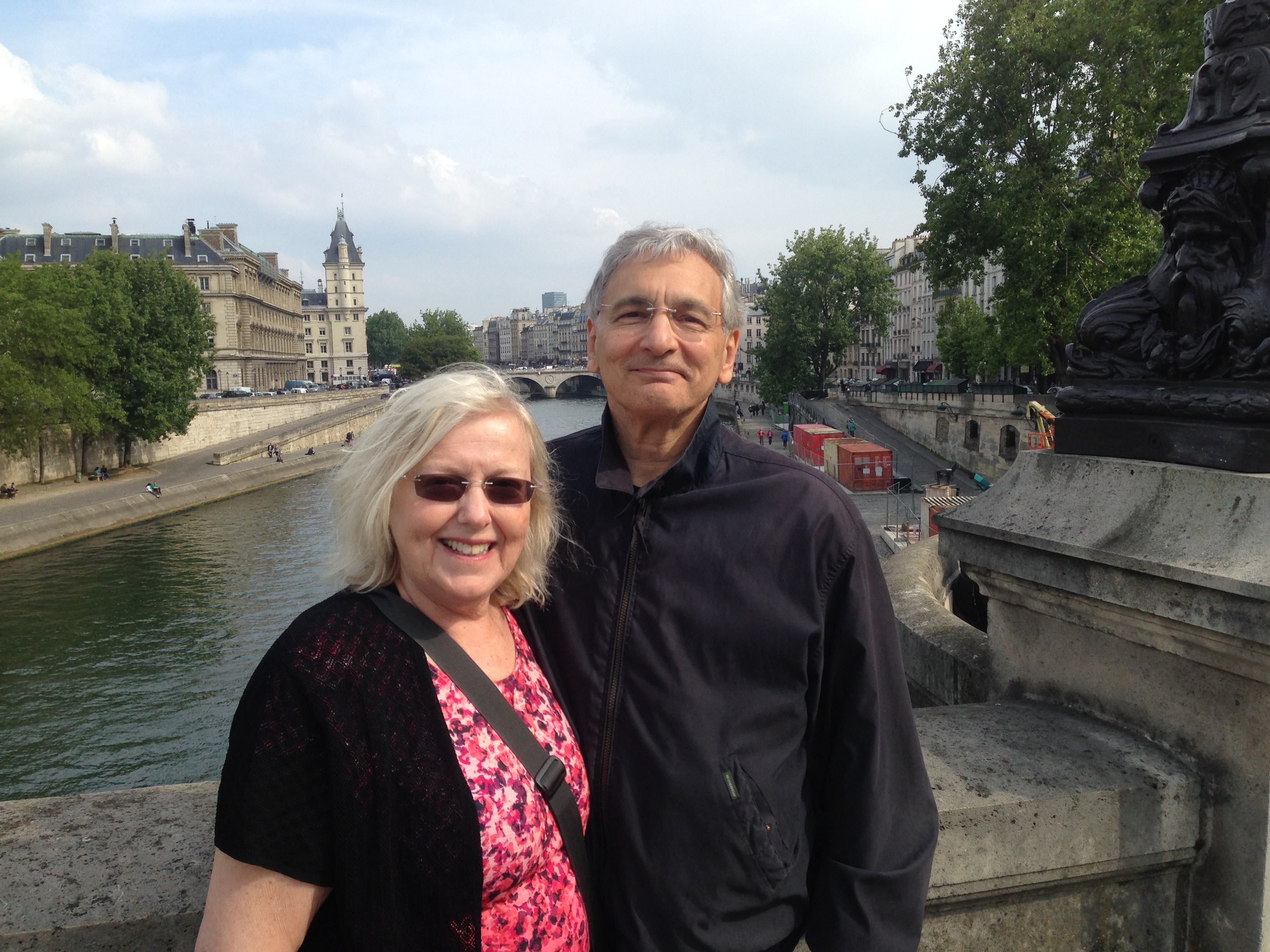 Belle: I enjoyed the references to the things that Parisians love in this story – dogs and croissants being two of them! It reminded me of my visit to Paris about ten years ago. Can you tell us a little about your personal experiences with Paris that helped you write this book?
Janie: The dogs! Parisians seemed to take their dogs everywhere and usually on leashes. Lots of tiny dogs.  The first morning we woke up, we went in search of croissants and found a café near the Sorbonne. The flaky and light croissant did not disappoint! Upon leaving, I saw a lady and a tiny dog coming in to dine, and her little dog jumped up in the seat and waited for the server to tie a napkin around his neck. I burst out laughing and of course shot a picture with my cell phone.   I knew my grandson would love to see this scene of a dog being treated like a human! And when we boarded the Metro, the subway there, I saw a lady with two dogs in her purse! Another photo op.
As our visit progressed, I kept shooting sights that would appeal to my grandson.  The scary, stone grotesque faces on the side of the bridge intrigued me, as did the many statues everywhere. Since I'm a horse lover, I took photos of the horse statues whenever I saw them.
Later when I was working on my book, I showed the illustrator my photos so she could create scenes from my photographs.
Belle: If any of your readers are inspired to visit Paris after reading this book, what other places do you recommend they visit in addition to the Eiffel Tower?
The cruise down the Seine will give travelers an overview of many famous sights such as the Champs-Elysees and Notre Dame. The boat we took was an "off and on" type where we could get off and walk to see a sight, and then return to take the next boat to continue our tour. I highly recommend the Batobus cruise as a way to see the sights in the heart of the city.  In addition to the Eiffel Tower, Champs-Elysees, and Notre Dame, the boat stops at Saint-Germain-des-Prés, Jardin des Plantes / Cité de la Mode et du Design, Louvre, Hôtel de Ville,  and Musee de Orsay, an expansive museum located in a former train station.  At the Musee de Orsay, I was entranced by Van Goghs, Renoirs, Monets, and Manets. I didn't want to leave, and we stayed till it closed. I could have stayed there forever.
Another personal favorite southwest of Paris is Versailles, a palace built by King Louis XIV in the 1660s. The interior rooms are opulent, and the grounds are expansive with many fountains throughout the estate. The gardens can have an eerie feel, and while sitting on a bench with an overcast sky, you almost imagine a ghost drifting past.
I've always been fascinated with Marie Antoinette (and especially after the Sofia Coppolla movie) so on my most recent visit, I had to see Le Petit Trianon where Marie Antoinette, the queen and wife of King Louis, XVI, spent many happy hours away from court with her close friends.
Belle: Notre Dame was one of my favorite Parisian stops. I felt like I was breathing history. It was amazing. Do you have any new books or projects in the works?
Janie: Yes, I do. I have always loved horses, and my new story will feature some. I'm excited about getting to spend time with one of my favorite subjects! Thankfully, I have a horse, so doing the research will be a good excuse to go hang out with her.
Belle: Is there anything else you'd like readers to know about this book?
Janie: Pap Pap Goes to Paris, and so does Ricky is not just for children. Anyone who longs to go to Paris will enjoy the vivid illustrations and the opportunity to journey through the City of Lights.
A Chattanooga native, Janie Dempsey Watts grew up riding horses at her family farm in Woodstation, Georgia. Her curiosity about most everything steered her to journalism and a writing career. Her novel "Return to Taylor's Crossing" (2015) earned an Indie B.R.A.G. Medallion, won first place in the Knoxville Writers' Guild novel excerpt competition, and third place in the Frank Yerby Literary Award. Her first novel, "Moon Over Taylor's Ridge," was a Georgia Author of the Year Award nominee for a debut novel and nominated for a S.I.B.A. Her collection of short stories, "Mothers, Sons, Beloveds, and Other Strangers" (Bold Horses Press, 2017) is nominated for the Georgia Author of the Year Award and won an Indie B.R.A.G. medallion. Her children's book, "Pap Pap Goes to Paris, And So Does Ricky," is about a boy who wants to travel with his grandfather to climb up the stairs of the Eiffel Tower.

After living in California for many years, she returned to northwest Georgia to live near the family farm. She is married and has two grown sons and three grandchildren. When not playing with her horse at the farm, she can be found at her desk writing. For a complete list of her published works, and more on horses, please visit her at: www.janiewatts.com.